Welcome to Wymondley Tennis Club
COVID-19 RESTRICTIONS HAVE NOW BEEN PARTIALLY RELAXED TO ALLOW PLAY
We are a friendly and relatively small club, tucked away on the southern fringes of Little Wymondley, a village in a triangle bounded by Stevenage, Hitchin and Letchworth. Although a number of our members live in the village, many do not. We welcome members wherever they live.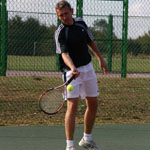 Membership activities include two club sessions a week, as well as a number of in-house annual competitions, which have been running for many years. We have a friendly social scene at the club with BBQs, friendly tournaments and the occasional visit to the village pub.
Adult membership is currently £80 per year and we also have both junior and student memberships available. For those that have never been club members before, there is the option of a three month trial membership at £25
The club enters several teams into both the Summer and Autumn Datchworth Leagues.
The club is affiliated to the Lawn Tennis Association through the Hertfordshire County LTA. As an LTA-affiliated club, those who are members of both Wymondley Tennis Club and British Tennis are entered into a ballot for the right to buy show court Wimbledon tickets each year (although the LTA have suspended the ballot for 2021).
If you are interested in joining us, we would be happy to hear from you.